Want a training package specifically designed to meet the needs of your group?

1/2 day, full-day and multi-day training is available for parent and carers groups and for other professionals (teachers, psychologists, social workers, foster care staff, corrections staff, child-care workers and more!) 

new readings, downloads, reflections, quizzes and links to external resources

ongoing access to the course materials!

same great drop-in group discussions now with recordings for those you miss

An on-line educational program especially for parents, carers or teachers of young people with Fetal Alcohol Spectrum Disorders (FASD) 

or at risk of FASD

For more information, sample the content and sign up for new program follow the link --------------->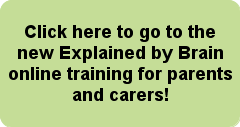 Explained by Brain has evolved and expanded!!